Garage music... Mull Historical Society: The Scotsman Sessions feat. 'The Final Arrears' (and a bonus track...)
Both albums will also be revisited on Archaeology, a forthcoming 80-track MHS box set, titled in impish reference to the original Mull Historical Society who renamed themselves the Mull Historical & Archaeological Society to differentiate their organisation from the sparkling indie tunes of the island's upstart pop star. "Relations between both bodies are good," says MacIntyre, "so I hope they won't mind."
As to the retrospective gigs, "I've got some swotting to do. I'm usually all about looking forwards creatively but it has been quite a life-flashing-before-the-eyes experience revisiting my first four years of releasing, which was a very prolific period. I did record a lot of songs for my first three albums because I wanted to give them all a chance, so I feel they all warrant a revisit now."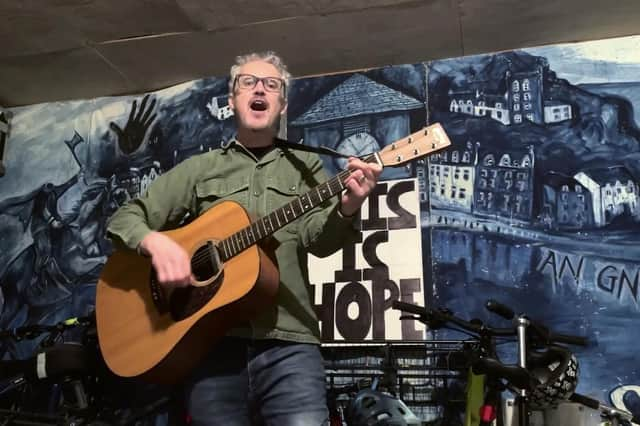 MacIntyre limbers up with his Scotsman Session rendition of The Final Arrears from Us, recorded in his "cabin in the woods", which is named after Mull's beautiful Calgary Bay.
"This song is special to me as it is one of those songs that just arrived as if fully formed. The melody never lets me down. There is also a wee bit of my debut single Barcode Bypass at the end… couldn't help myself and they're both in 'G'!
"That song was about an ageing shopkeeper trying to tell his wife that they are going under as a result of the new 24-hour superstore nearby. I suppose it was my comment on globalisation and the draining of community. I come from a small community so that is always at the heart of what I do."
MacIntyre also celebrated that community and its enduring local lore in his 2015 debut novel The Letters of Ivor Punch, which was subsequently adapted for the stage as The Origins Of Ivor Punch – MacIntyre performs his Scotsman Session against the backdrop of a fantastical Tobermory which was used in that production.
Fans of former police sergeant Punch will be happy to hear of his imminent return in a crime novel to be published later this year. MacIntyre also plans to weave together his love of writing and music on a new Mull Historical Society album. In My Mind There's A Room is a planned collaboration with some of MacIntyre's favourite authors, which he will record once more on Mull, in a space with lots of personal history – the recording studio on Tobermory Main Street used to be his poet grandfather's front room, located above the bank of which he was manager. "I will make the album in the room where he wrote," says MacIntyre, "so I've asked some of my favourite writers about a significant room to them."
Mull Historical Society play St Luke's, Glasgow on 3 February as part of Celtic Connections. Archaeology: Complete Recordings, 2000-2004 is released by Demon Records on 24 February
PRE-ORDER 'ARCHAEOLOGY' 80-TRACK BOXSET & ANNIVERSARY EDITION VINYL REISSUES NOW